---
This section is dedicated to having a good laugh, be it at a good joke or at the worry of a dear friend...
I'm not sadistic, just check the links below to see what I mean...
---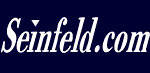 This was the coolest show. If you know and like comedy than you have to like Seinfeld. It's a show, and a whole website about nothing!
---
This has to be one of the COOLEST pages of all time. They have extremely funny things, like South Park comedy, and all that cool stuff.
---
Send an "official alert" from the
This has to be, by far the scariest thing that I have EVER gotten in my e-mail because of how real it looks! It looks like an official report and they say that because of your immoral or indecent viewing of websites, everyone in (your school/your town/your workplace) will be notified for their own safety. It is SCARY! If you don't believe me, or if you do and want to send it click here.
---
This site is where the link to sending an Internet Indecency card came from. It is a REALLY cool and funny site. Check it out! It is the neatest thing in the world.
---
View my Guestbook | Sign my Guestbook
---
Click

to go back to my home page.
---
Care to e-mail me? Click on the icon below.

Chris Berg
---