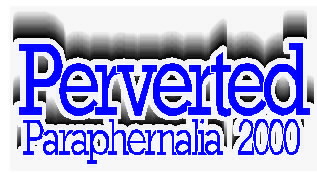 No, this wasn't a link to some incredibly perverted site, this is just a page where you can sign up for my newsletter. :-)
Oh Yeah!
---
I am going to display and maybe even archive a few past editions, so you can see them if you want to, and sign up here. You can sign up by clicking on the e-mail icon below and requesting to be signed up to my newsletter. Make the e-mail subject "PERVERTED PARAPHERNALIA".
---
---
Click

to go back to my home page.
---
View my Guestbook | Sign my Guestbook
---
Care to e-mail me? Click on the icon below.

Chris Berg
---